Don Kennedy, WW2 Veteran: Kanon Kommander at 16! "Don't call me a hero"
Posted on: Mon 6 May 2019
92 year old Don says "There were plenty of heroes in the Merchant Navy during World War Two, and I wasn't one of them.  I'm just a bloke who went to war when I was 16."  At age 12, this young lad from Sydney's Manly area had been a bicycle messenger anxious to play a bigger role in wartime Australia.  He went on to serve on ships in the Caribbean Sea, the South Atlantic, the Pacific and the Indian Ocean.
Interviewer Helen Meyer
Main Photo:  Merchant Navy Memorial, Norah Head Lighthouse Precinct. Photo from US Army Small Ships Assoc and used with permission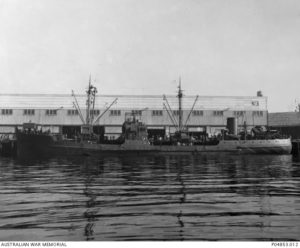 The motor ship Lorinnaa (S-135) of the Small Ships Section, United States Army Services of Supply, Southwest Pacific Area (USA SOS SWPA), docked at an unidentified wharf. The Lorinna had been a Tasmanian timber trader before being leased from William Holyman & Sons, Melbourne from 11 November 1942. On 16 February 1944 the Lorinna was attacked by a Japanese aircraft at Cape Gloucester, New Britain. Seven crew members were killed and 14 wounded. The Lorinna returned to Sydney for repairs. Initially Australian ships were requisitioned and chartered by the Small Ships Section. Construction of ships for USA SOS SWPA commenced in Australia in 1942. Approximately 3000 vessels were constructed, including freighters, launches, tugs, towboats, lighters, rescue and salvage boats and a large number of barges. An additional 4000 lifeboats and dinghies were built. Around 3000 Australians enlisted in the Small Ships Section during the Second World War. They were not inducted members of the US Army, but were civilians attached to the Army. They were often too young, too old or physically ineligible to serve in the Australian armed forces. (This image is from the collection of Arthur James Carfax-Foster who served with the Small Ships Section from September 1943 until January 1946).